It's been four days since I arrived and just now I am getting the chance to sit down and write to you all. I will begin by saying that it's a huge grace for me to have and be able to take on this apostolate. There's a lot of work to do, many people and places to visit, many Masses to say, many confessions to hear, and many sacraments to distribute. To complicate matters a bit, here in Maka, where I have made my base camp, the hours are difficult, since many of the people have to work. This means that our only time to get together and pray is after sunset when they get home from work. Therefore, when we finish all of our activities there's a little time to take a shower and to have some dinner and then…my device says "low battery"…and I am not left with any time to sit down and write to you all.
Today's a rainy day. Originally I was supposed to go and visit a few villages (Biak and Konabasi) where there is a new community of Catholics. It's an interesting story that I will get to later. However, I was unable to get a vehicle, and thus possibility of going alone on motorbike was out of the question because it would be too far and too dangerous. To mention that on a rainy day like today, even the locals themselves advised me not to. They told me that "in that area the people are very rustic and primitive, so it's not good to go alone."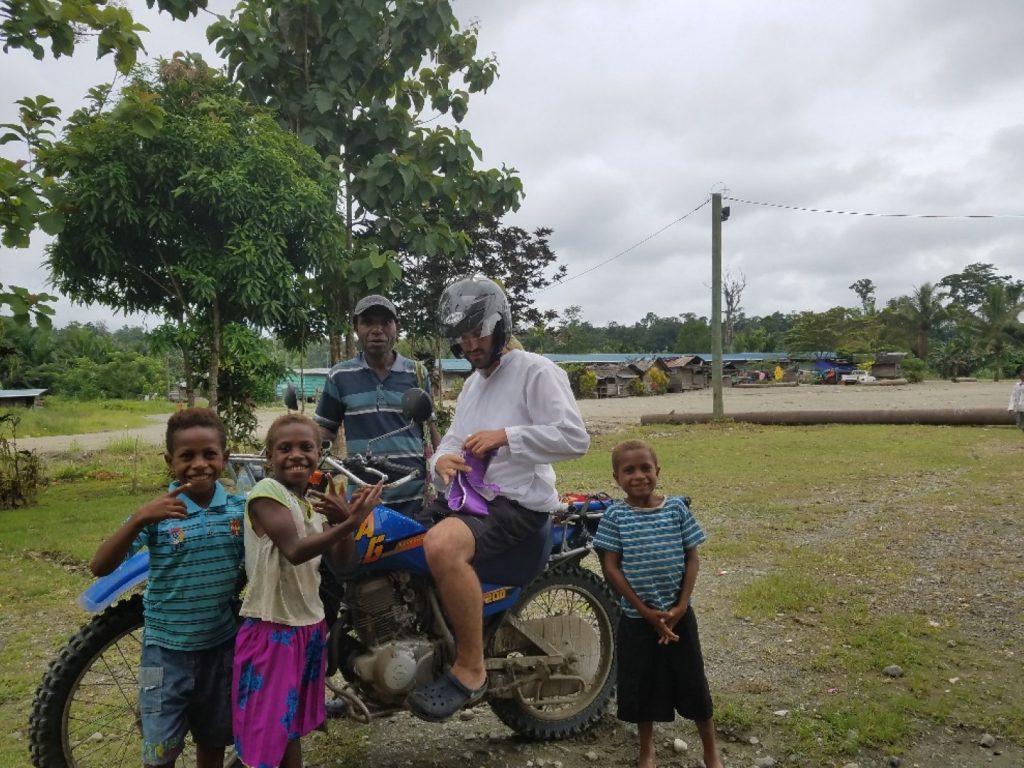 Therefore, as I mentioned in the beginning, now I have some time to write and I hope to make it more or less organized.
Honestly, right now it's a little hard to make myself write, since some things aren't as striking to me as before when I first arrived, plus there's an abundance of work that needs to be done. However, many of you have insisted that I do it, and in the end it does me some good…it's even necessary in a sense, because it's a way to regain strength and overcome that feeling that you are alone in the mission.
If it's true that we work (unworthily) for Christ and His Church, it's also true that we have the enormous grace to be on mission here as priests of our beloved family of the Incarnate Word; to which I personally owe everything that God has given me since I discovered my priestly vocation at the age of 10. Therefore also, as duty and as a sign of my affection towards my religious family, I write to you to share with you the beauty of our mission work here in Papua.
I also hope that at some time these words will help someone, animated by God, discover their calling to join in this mission, to "go to the ends of world and announce the Gospel"…the need for missionaries is so great!
During these past few days I visited another camp named "6-5 Kamp", where they told me that the last priest to celebrate Mass for them was Fr. Francis, who came to Vanimo alone to do mission work for a few years and it had been three years since he left the mission. Thus, it had been almost three years since these people had received the sacraments or participated in Mass. The need is not only in Papua, though, how many missionaries in the field are also saying, "If they could only send us another missionary, how much more we would be able to do!? We could start a school, a house of mercy, or this or that apostolate, serve that place or these people better!" What we need are generous young people. If they don't come, then who is going to remind us that we have a soul and that we must work to save it? Who's going to make Jesus Christ and the work of salvation He began present among us?
At times St. Francis Xavier's letter to St. Ignatius comes to mind, where he writes to his founder saying that on some occasions he wished he could leave the mission and return to the university in Paris in order to invite all the young people, at the top of his lungs, to leave their things and personal projects behind and give their lives to the missions, to Jesus Christ, to the salvation of souls…what project and business could be more important than this?
Even more so, this work is always successful and gratifying, because it is Jesus Christ Himself who enacts it, completes it and brings it to perfection. It's true that being a missionary requires strength and that it's not always a bed of roses, but it classifies as one of those things that's worth the struggle.  What greater way is there to spend your days and your entire self? Obviously, I am not saying that every young person is meant to become a religious priest and missionary—since the call comes from God and each man accepts it unworthily—but what I am saying is that those who know they are called by God need to be generous and find the courage to respond to God's call with faith and without hesitating. I humbly assure you that if you give your lives to Him with generosity, you will never regret it and even more, you will never be able to thank Him enough.
If, within my hands, I had the nonexistent power to "assign a vocation" to each person, I would give to those most beloved to me a priestly and missionary vocation, because there is nothing more beautiful, nothing greater, and nothing more fulfilling than spending all the years of your life in the missions! There is nothing more gratifying than spending your strength to follow Jesus Christ and to save souls!
Alright, so I got a little off topic, although not too much. It's simply what I have been thinking about these past few days. Now I will try to orderly recount what has gone on over these past few days, and not focus so much on my thoughts.
The Trip
Before leaving Vanimo I was able to talk to Fr. Robert, an Indian priest who worked for many years in the jungle parishes but now works in Vanimo. He made me a map of the zone that the bishop asked me to go to during these next few days leading up to the New Year. I was also able to do a little shopping for food to take with me, prepare the sacristy and apostolic material that I would need, and providentially I was able to meet Benol, the leader of the Catholic community of Maka, who had come to Vanimo in order to see the bishop. In talking to him, I was able to go over a few extra details and I was able to arrange for the motorbike[1] to be taken to Maka the next time a truck came down to Vanimo.
On Tuesday morning, December 13th we celebrated Mass in our house with Fr. Tomas and after making a few last minute preparations for the trip we headed to the diocesan center to fill up with gas, pick up the spare tire and make arrangements with the chauffer to take us on our way. There we found out that two more priests were going to join us on the trip in order to return to their parishes in the jungle. Finally when 1:00pm rolled around we found ourselves departing for the jungle. We traveled in a Land Cruiser "Transiter", and Fr. Tomas and I rode up front. Fr. Tomas came along only to accompany me on the trip, meanwhile in the car there was also Raymond, the diocesan chauffer, the two priests we dropped off on the way and a seminarian from our parish, Newton, who was home on vacations and asked me if he could come with me to the jungle. Newton's addition to the trip was a God-send, because he is helping me a ton.
For me especially, the trip itself was extremely interesting, since I asked the chauffer if I could drive in order to learn the way and get some experience. It was great…but I'm not sure if the others would agree…Since he knew the route by memory, even to the smallest details, the chauffer rode in the back and gave me explanations and warnings.
Maka Base Camp is roughly 150 km from Vanimo (93 miles)—at least that's what the odometer said when we reached our destination. The trip took five hours, starting along the coast and ending in the center of Papua. The whole way over the mountain the road was covered with debris, since these are the roads opened by the lumber companies to export wood. A few of these roads have been abandoned and are almost unpassable. Once the companies stop using and maintaining them, the jungle eats them up, literally speaking. At one point, during a river crossing the car started flooding…we were literally stuck in mud, but after giving me a few indications that I couldn't follow, Raymond took the wheel and after a while we got out of the quagmire. Thanks Raymond!
The rest of the adventure will continue in the next chronicle….
---
[1] The motorbike belongs to the diocese. It's an all-terrain Yamaha 200, which would help me visit other nearby communities, which can only be reached by the roads made by the tree companies.