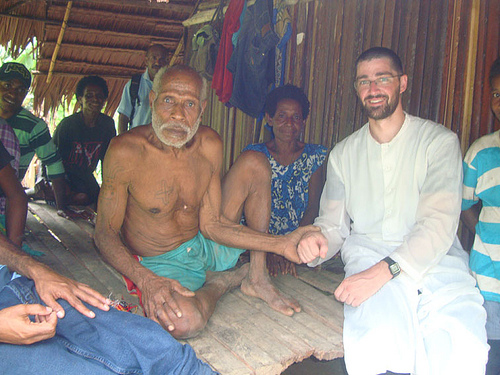 From Sunday the 8th to Saturday the 14th of December, we held a popular mission in Yako, one of the five villages that we serve. This is the second popular mission that we have preached in this village, since every year at this same time, we preach the popular mission, but in a different village each year. The last time the mission was preached in Yako was in 2009.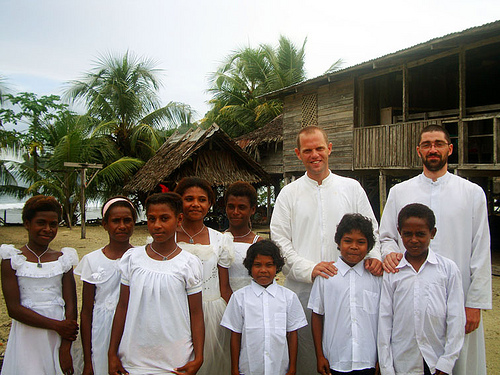 There were about 40 missionaries: two priests, Mother Rocio, SSVM, who came with several girls from the house of charity, who were a huge help in taking care of the children and the youth. The other missionaries were men and women of the other four villages in which we work.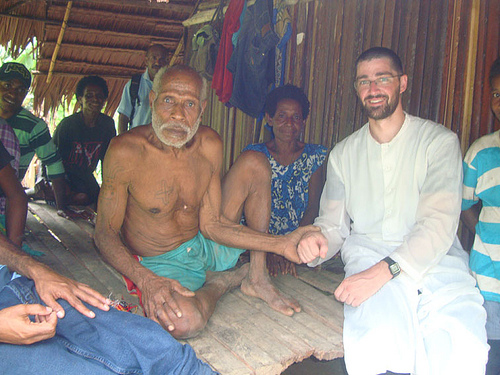 One of the most beautiful things of this mission was the discovery a whole new world inside the jungle. We knew about it, because we had been told that there were many people in the jungle and in the mountain. But we did not expect to meet with such a sight: many houses, a small cemetery, a very well worked ground: it was a place where time seemed to stand still, worthy of a movie.
Unfortunately it was not much that we could do with these people, because only one of them spoke pidgin (the language we use here), and the rest spoke a strange language that we do not know. Anyway, in our parish there are people who know the language, and so we must organize something for these people in the future. Despite the limitation of language, they perfectly understood who we were, and thus we were able to bless every house, and when we took leave, they gave us lots of food and some crafts.
The day began at 7 am with an hour of adoration. At 8, we went walking through the town praying the rosary, and at 8:45 we had Mass. After that, we had breakfast and went out to visit homes. In the afternoon, however, when it began to get dark, we would have a procession with the people, at the end of which, we had the mission act, consisting of the sermon by the priest and a short catechism which some seminarians had prepared.
On the last day we baptized a few babies, and on Sunday several children received their First Holy Communion.
That is all for now. I have kept the chronicle short in order not to bore you. I think the photos we send you will speak better than us (More pictures HERE)
Missionaries in Papua New Guinea