This summer we had an extraordinary mission in Charity, Guyana!
Fifteen FOCUS missionaries from all over the US joined us (IVE) and our sisters (SSVM) for a 13-day evangelization mission in the only English speaking country of South America. There were also a good number of local parish youth who joined us as lay missionaries. The theme we carried with us throughout the mission was "Save Your Soul!"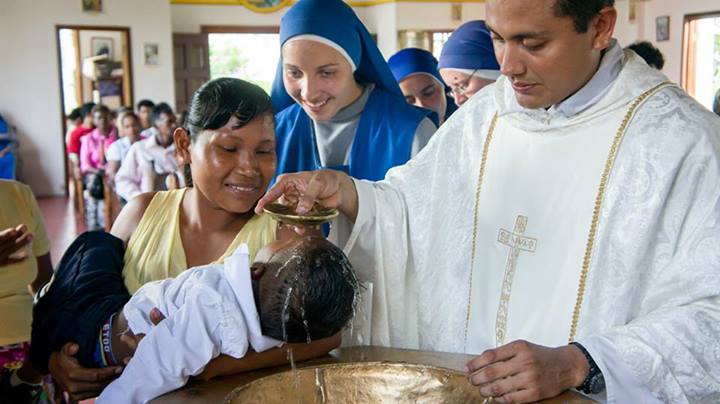 Our mission at St Francis Xavier Parish in Charity actually began back in the States a couple of months before our departure. Planning for the mission, making phone calls and sending tons of emails soliciting for mission materials (including rosaries, bibles, catholic faith booklets, holy cards) and last but not least, tons of candies for making our mission piñatas for the children. We are so grateful to all the sponsors and benefactors for their generosity, and may God reward you all!
At the mission, we began everyday with the Holy Hour of adoration of the Blessed Sacrament, followed by the Holy Mass with the parishioners. After breakfast, we split-up into groups of 2-3's to visit houses in the neighborhood, inviting the Guyanese people to come to the parish. Everybody agreed that it was a great blessing to bring Jesus to so many households. And many of the children and adults did come to our mission activities. In the afternoon, children from all over Charity "swamped" to St Francis Xavier Church to spend joyful time with us. We played games, made crafts, and the children would also receive a short catechetical talk prepared by the missionaries.
Daily at 4:30pm, we had a beautiful Rosary possession around many different neighborhoods of Charity, followed by talks about the Faith and moral issues for the adults. To share our Christian happiness with all our visitors and to finish off the night, we would sing songs, put up different skits around the camp fire prepared on the grounds of the parish.
There were many fruits during this mission, in particular, nine children received the sacrament of baptism, and many attended our catechism classes. We are also grateful to the many parish families who came to cook for us every day, so that we had a wholesome experience of the multi-cultural Guyana.
We hope that some of you will consider joining us, like our friends from FOCUS did, next summer for another exciting mission in Guyana.
IVE Seminarian Mission Guyana 2013
From: IVEAMERICA.ORG