Dear religious family and friends,
I want to tell you about a very beautiful experience that I had in the state of Louisiana, USA.  It seems to me that Louisiana is one of the most Catholic states in the United States; for one thing, the state flag has a pelican on it, which is a symbol of Christ.  Furthermore, in the Diocese of Lafayette where I was preaching a mission appeal, the diocesan flag is also very Catholic.
They were celebrating the 250th anniversary of the presence of the Acadians, who are descendents of a group of French-speaking Catholic colonists that emigrated from France towards the end of the 16th century due to the Jacobin persecution.  They established a French colony called Acadia in the Maritime Provinces of Canada, Nova Scotia, and in part of present-day Maine.  Persecuted by the British in the second half of the 16th century, a few colonists remained in Maine, but the majority escaped south to Louisiana where they established themselves definitively.  They are popularly known as Cajuns.
Everything began with the Holy Mass of the Solemnity of the Assumption in St. Leo the Great Church in Leonville, presided by the Bishop of the Diocese of Lake Charles, Mons. Glen John Provost, D.D.
The church was full.  The women were all wearing veils on their heads, like they used to do in years past, and I saw great devotion and seriousness in the men and the youth at the moment in which they received Holy Communion.
In short, all of this made me think about the great Catholic France of the past and its many saints.
When the Holy Mass was over, we began a solemn procession with the Blessed Virgin Mary and the Blessed Sacrament on the river next to the church, which is called the Bayou Teche.
The procession extended for 33 miles and included five stops at the five churches located along the bank of the river, and throughout the procession, we prayed the Rosary in English and French.  Most of the faithful were kneeling with great devotion.  There were 50 boats navigating the river during the procession, which carried the Blessed Sacrament, an image of the Assumption of Mary, incense, and many of the faithful, among whom were priests, deacons, seminarians, sisters, etc.
The faithful had prepared flags, altars with flowers, and statues of the saints along the riverbanks awaiting the arrival of the procession, and they knelt as the Blessed Sacrament and the image of Our Lady passed by.  There was a large altar at each stopping point, where the priest placed the Blessed Sacrament and gave the benediction.
During the procession, I was in a boat with three altar servers, three seminarians, two sisters, and a married man, praying the Rosary and other prayers and singing to Our Lady.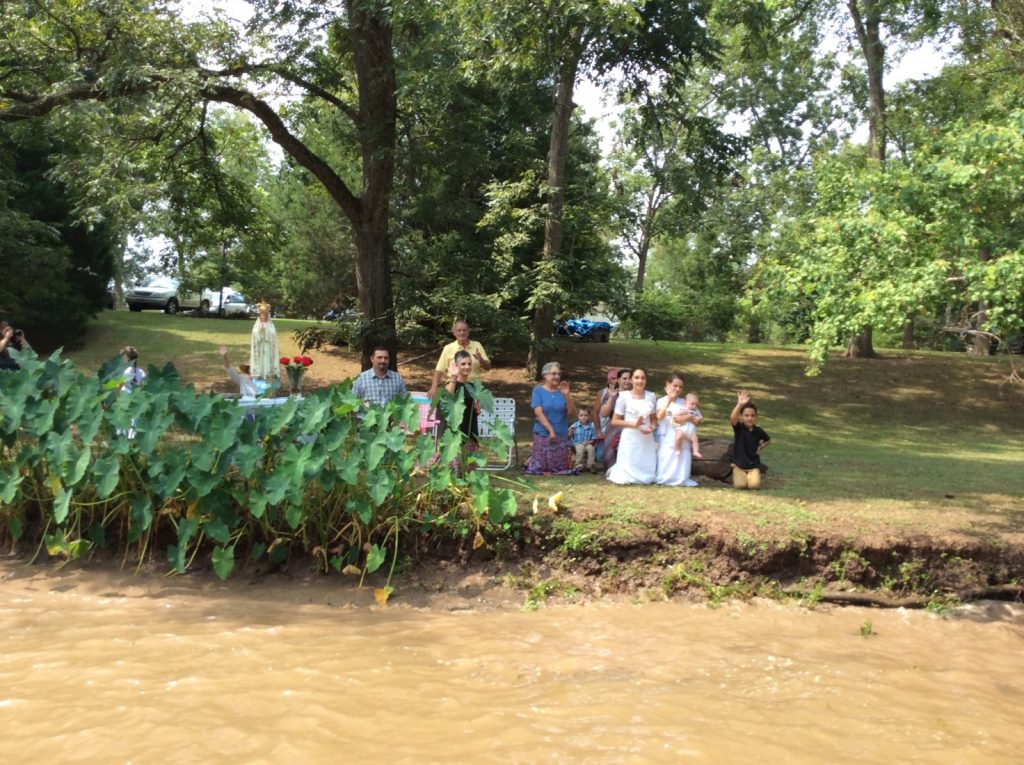 We give thanks to God for this celebration and example of the Catholic faith.
I would like to end my chronicle with the words of Pope Francis, which he addressed to the Congress of the United States in Washington, D.C. on Thursday, September 24, 2015:
"I appeal here to the political history of the United States, where democracy is rooted in the minds of the people.  All political activity should serve and promote the good of the human person and be founded on respect for human dignity.  'We hold these truths to be self-evident: that all men are created equal, and are endowed by their Creator with certain inalienable rights; that among these are life, liberty, and the pursuit of happiness' (Declaration of Independence, July 4, 1776)."
Father Andrea David, IVE