Having three churches in our parish, we could this year celebrate the first annual church-festival in Herzfelde on 27th July 2013. At the same time took place the consecration of the whole parish and all the persons living in the territory of the parish to the Immaculate Heart of Our Lady.
The church in Herzfelde has been consecrated on 28th July 1935 and has experienced difficult times during the Second World War and later during communism.
Some weeks before the consecration to Our Lady the sense and the profit of such an act  was explained in a homily and people received a prayer of consecration for their private use.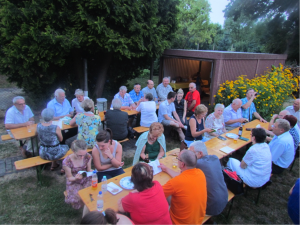 On the eve of the 28th July 2013 at 6.30 p.m the Holy Mass celebrated by our Fathers started. Not only people from the parish , but also some members of the local protestant church participated to that service.
After the homily the consecration to the Immaculate Heart of Our Lady took place.
After the Holy Mass everybody was invited in the Church Garden for some food and drinks, where people were enjoying being together and singing.
Approximately at 10.00 p.m. that wonderful festival finished.
As always, we continue to entrust ourselves to your prayers. Please pray for our mission here.
Fr. Harold Bumann, IVE