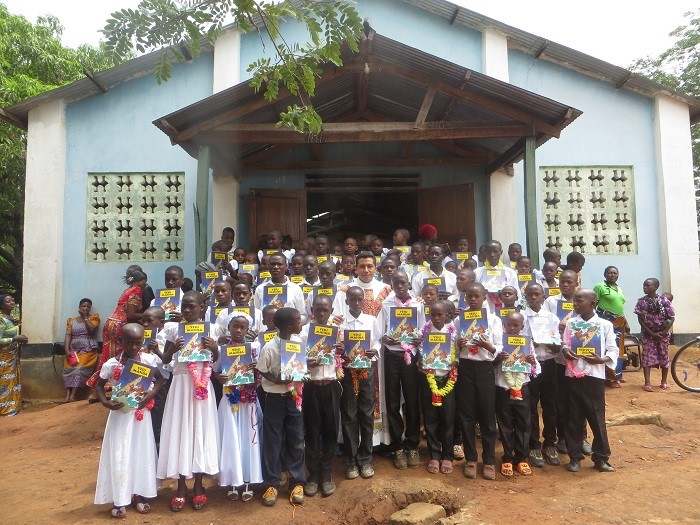 Ushetu, Tanzania, December 1, 2017.
A majestic silence reigns. It is one of the things that caught my attention the most since I returned. Nevertheless, I admit that it is the first hours of the day, 5 o'clock in the morning. In order to write something of what has been happening in the mission, one has to find some moments of tranquility, because the activity in the mission never stops. Once the sun rises, the stream of people is almost continuous, except during siesta, and on the day that the people know we rest… but not all know which day this is; many people come from distant villages, and even though it is our day of rest, they must be attended to.
The silence is absolute. I had to walk very slowly so as not to wake the other priest with my footsteps, although he sleeps in one of the rooms on the other side of the house. Upon rising, the first thing that we do, like all good Christians, is to give thanks to God, and put in His hands the day that has begun, the first act of the day. But, the following act is to turn on a light and begin to look around and see that there is no surprise in sight… before putting the feet on the floor, see that there is no scorpion. We have already killed two in the church this week, and the sisters killed another, the size of an outstretched hand, in their house. It is the rainy season, and it is common that they appear. The rainy season is very beautiful, but like all things in life, it has its pros and cons. Nevertheless, I have to admit that I prefer this season 100 times more. Everything rejuvenates, becomes green, grows, and refreshes… the sight rests and the soul as well.
A surprise visit
Yesterday we were struck by surprise, in a manner of speaking, though it was somewhere between a surprise and a fright, because while resting a bit during the siesta hour, busy with not too important activities, I looked out the window of the house and saw that the bishop's car was coming. The sisters had told me that he had wanted to visit me once I had returned after my operation. Fr. Orazio and I began running to put a minimum amount of order in the house, or better-said, in the living room where we would receive him. It is a Tanzanian tradition, and I believe that it is so for all of Africa in general, that one goes to visit someone who has had some serious health problem. They bring gifts and give the "pole" to him as a kind of condolence. It is a very human and charitable gesture, and it shows well the people's spirit of solidarity. But, in truth, I never expected a "surprise visit" from the bishop. In any case, it was a very cordial visit, and he stayed a short amount of time, barely half an hour, just enough to sit and ask me how I was, how the vacations were spent, and how was my return to Kahama. Really, I admired him- though he has so many commitments, he made an hour and a half trip to come and greet me, and drove another hour and a half to return home. And it was the bishop who came… This Tanzanian spirit surprises me more and more each day.
Communions in Ilomelo
In the last chronicle, I told you that we went to confess the children at Ilomelo, the village where Stanislawsi was from, the catechist who passed away last August. It was a beautiful celebration, where 68 children received their first holy communion. The Mass was celebrated by Fr. Jaime, and some sisters were able to be present.
What happened was that it poured down rain right before the Mass. During the initial rites, two little girls arrived, completely soaked, but carrying a bag with their change of clothes. The sisters helped to dry them a bit with their jackets, and later dress them in a small room so that they could arrive "impeccable" in Church. It is beautiful to see the devotion with which they received communion, how earnestly they desired their first communion!
We were able to buy some picture books of the life of Jesus. In previous years we could give the children Bibles in Swahili, but when we tried to get them this year, there were none left. Anyway, the book is very Catholic, and it was the admiration of the young… and the not so young.
Baptisms in Nyamilangano
Together with Fr. Orazio, Mother Belén (provincial superior of the sisters in Africa) who was visiting at the time, and the sister Protectrice, we went to the baptisms in Nyamilangano. In principle, there were to be 38 children and youth catechumens, but in the end there were 28. Since the high school closed last week, many of the youth returned to their villages.
We will have to have a Mass in their high school when classes start up again. It was a splendid ceremony, and particularly moving for me, because there were many high schoolers. We are not used to seeing so many older children be baptized in this land… some were quite big, some of the boys were taller than us.
After Mass, we were able to take a picture outside of the Church, and then had to take refuge inside because a tremendous downpour was unleashed.
We had to eat inside the chapel, but you must know that there is no tabernacle here, and so in these cases, the act is justified, since there is no other place to fit everyone. Fr. Orazio baptized the children, his first spiritual children in Africa. He was very happy, and told me that in the five years of his priesthood, he had only baptized four or five persons… and so on this day the number increased six times over.
Construction of the dining hall
This past week, also included a great effort, beginning to raise the walls of the dining room and kitchen for the novitiate.  I say "raise" because the cement bricks had been made the month beforehand, but in all truth, that was the least enthusiastic part, since it was all below the ground, unseen.
Now they have begun to build the walls. Three contracted bricklayers work at this with the help each day of three postulants (these rotate, but all help in turn).  The cement bricks were made by the novices themselves, over these last two months.
Each day there was a team of brick-makers, and they competed to see who could make the most per day. As always, this dining room is a test of our hope, because we do not have the money to build it, but keep hoping that the help we need will come. For now at least, the walls will go up as far as they can.
First Fridays of the month
Yesterday was the first Friday of the month, and members of the Sacred Heart group came to make a retreat. Those who come from the most distant villages come on Thursday, and stay overnight. Some come from the town of Nonwe, 25 miles from here. Others begin to arrive very early, taking advantage of the time that we expose the Blessed Sacrament, they pray the Rosary and go to confession in order to complete the First Friday devotions. They also arrive early from other villages, like Ilomelo (21 miles), Kangeme (12miles), Senai (4 miles), etc. They pray a lot during the day, eating almost nothing, only what is necessary in order to have strength, but the idea is to make a fast.
I was surprised in the afternoon when I saw a woman, accompanied with her seven children, who came to greet us at our house. She came from the village of Mjimwema, which is about 5.5mi. They came to participate in the Sacred Heart retreat. They left in the morning, walking, and now would return walking. I gave them two candies each before they began their trip, and they were happy. You should have seen their happy faces as they left the day of retreat. I ran for the camera and asked from afar that they turn and wave… you can see the authentic joy so evident on their faces.
The picture of Teresia
Perhaps some of you remember the story of Teresia, a little girl who was gravely ill with a type of meningitis, who –thanks be to God– recovered. She had been baptized and, since she was so seriously ill, I administered the sacrament of the Anointing of the Sick. When she recovered, she happened to find me by chance on our property, when the motorbike they had ran out of gas and they came to ask for help. She asked me then for "her pictures", which I had taken on the day of her baptism. I told her I would print them and give them to her, but Teresia was taken to Mwanza, where part of her family lived. I did not know if I would see her again. Some of you asked me about her when I was in Argentina, and I told you to pray because I knew that some of her family members were protestants and had called a pastor to "cure" her… and so I did not know if they would allow her to continue to come to Church, and if I would see her anymore.
But witness the power of prayer, because I remembered while there in Argentina that I had to print the pictures for her, even though I didn't know if we would meet again. Nonetheless, the first day that I was back, last Sunday, I went to the oratory and sat down by the soccer field where the altar boys play. From there I had a good view of the whole oratory, of the youth playing volleyball, the girls who played behind one of the soccer nets, and the littlest girls playing under the mango tree… Then I saw two girls coming toward me, and when they were close I identified Teresia… who came with her cousin, also called Teresia. It gave me such joy to see them, and the first thing that she asked me was for her pictures… and I told her that I had brought them. She was so happy. Nevertheless, both Teresias became serious and told me that the grandma would not let them come to pray because she is Evangelist and says that the pastor cured Teresia. I told her not to worry, to come as often as she can… and to remember that I had given her the Anointing, and there were many people praying for her… and so nobody can "claim" the cure, and with greater reason still we could attribute it to the Anointing of the Sick. She smiled and told me that would do their best to come.  I take advantage of the moment to ask you to keep them in your prayers, both Teresias, as it seems that they help each other in order to continue coming to Church.
As you will see, in such little time, much has happened. I have told you a little of everything. These short lines that I have written in pieces between work at the mission, between meetings with the commission of laity, meetings with the leaders, attention to the people who come here from their villages, the confessions of the boys and girls at the center before their communion, the children who come to play, and … it is already night… and tomorrow I am expected in Kangeme for the first communion of about 70 children. It is raining hard and I hope that tomorrow all of the children can make it to the Church.
God bless you. Stand firm in the breach!
Fr. Diego Cano, IVE.