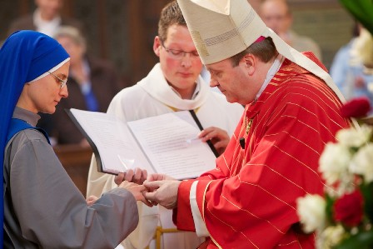 "In order to carry out with greater perfection the service God and men, we profess the three vows, in order to follow more closely the Incarnate Word in his chastity, poverty and obedience" (Const. 6)
In Schiedam, a city that holds the remains of a great Dutch saint, and patroness of our community, Santa Liduina, we were able to participate in the perpetual profession of Mother M. Nadiya Beznadiynych, from the United States of America, a missionary in Holland. There were present the parents of Mother who came to accompany her, Mother Maria de Anima Christi, Superior General of the Institute and our Provincial Superior, Mother Maria de la Caridad, along with the Sisters of the communities of Luxembourg and Holland.
With great enthusiasm we were getting everything ready for the Feast of the Exaltation of the Cross in which the perpetual profession was to take place. The bishop of our diocese, Bishop van den Hende, joyfully accepted the invitation to preside over the ceremony. The Mass was presided by our Bishop and concelebrated by four priests, the rector of the Basilica, a priest who helps at our parish, and two priests of the congregation, missionaries in Alkmaar. In the sermon the Bishop spoke of the Cross in the life of every Christian, and made special reference to the Cross of Matará, explaining some of its symbols.
We prepared the liturgical chants with some musical instruments and with the participation of several members from other choirs. There were many people who participated in this great celebration, a joy for the whole Church, since a religious consecrated herself for all eternity as the spouse of the Word.
"For I determined not to know anything among you except Jesus Christ and him crucified." "What we preach must be this doctrine of the Cross: Jesus Christ crucified …" (DS 140)
After the Mass, we had a small celebration at a nearby hall, where we could perform a very simple fogón, with songs in various languages. We were also able to chat with the guests and friends.
We entrust to Our Lady of Luján, the patroness of the Institute, everyone who participated in this celebration, so that each day they may grow closer and be more united to her Divine Son. We also ask Her that Mother María Nadiya may persevere in the religious vocation.
SSVM in Holland