Last year (2015) St. John Bosco Children's Oratory in Peterborough performed their fifth annual Christmas Play with a Canadian Theme. When the Jesuit missionaries came to Canada, then New France, in the 1600s they began evangelizing the Huron Nation that lived near the Georgian Bay (located a few hours north of Peterborough).  A Jesuit Relation from 1642 reads:
"The Indians have a particular devotion for the night that was enlightened by the birth of the Son of God. They built a small chapel of cedar and fir branches in honor of the manger of the Infant Jesus."
Our Christmas Play this year was inspired by a hymn written by missionaries.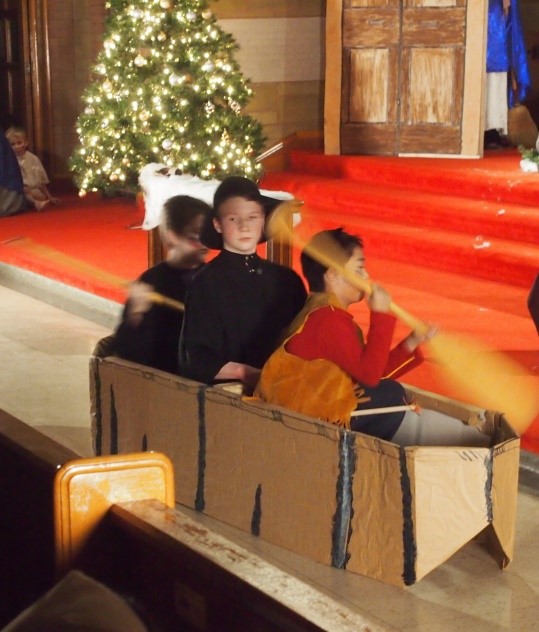 The Huron Carol
St. Jean de Brebeuf composed "The Huron Carol" in Quebec while he was recuperating from a broken clavicle. He wrote the words to the music of a sixteenth century Carol called "Une Jeune Pucelle" (A Young Maid). Fortunately one of the last Jesuit Missionaries to the Hurons, Fr. de Villeneuve, wrote the old Huron words to the carol and later translated it into simple French. The following is a literal translation of the Huron Carol from the Huron language to English. (Translation by John Steckley/Teondecheron)
Huron Carol
Have courage, you who are humans; Jesus, he is born
Behold, the spirit who had us as prisoners has fled
Do not listen to it, as it corrupts the spirits of our minds
Jesus, he is born
They are spirits, sky people, coming with a message for us
They are coming to say, "Rejoice (Be on top of life)"
Marie, she has just given birth. Rejoice"
Jesus, he is born
Three have left for such, those who are elders
Tichion, a star that has just appeared on the horizon leads them there
He will seize the path, he who leads them there
Jesus, he is born
As they arrived there, where he was born, Jesus
the star was at the point of stopping, not far past it
Having found someone for them, he says, "Come here!"
Jesus, he is born
Behold, they have arrived there and have seen Jesus,
They praised (made a name) many times, saying "Hurray, he is good in nature"
They greeted him with reverence (greased his scalp many times), saying 'Hurray'
Jesus, he is born
"We will give to him praise for his name,
Let us show reverence for him as he comes to be compassionate to us.
It is providential that you love us and wish, 'I should adopt them.'"
Jesus, he is born.
St. John de Brebeuf
Father Jean de Brébeuf came from Normandy. He arrived in Quebec in 1625 and spent his first winter in the bush with Montagnais hunters in order to study their way of life. He was in Huronia from 1626 to 1629 and again from 1634 until his death in 1649. He and his fellow Jesuit Father Gabriel Lalement were caught in a surprise attack in a village they had named St. Louis, and taken to another village they called St. Ignace, where they died after several hours of torture on March 16, 1649.
St. Jean de Brébeuf had actually made a vow not to shrink back from martyrdom. His brother Jesuits said of him, "He seemed to have been born for this country. His nature was such that he mastered the ways of the indigenous people, doing everything possible to touch their hearts and win them for Jesus Christ." He was a man gifted in prayer who aspired to join Christ in his sufferings and cross. He wanted, like Our Lady with her pierced heart, to submit perfectly to "the will of God, though his heart had been filled with sorrow."
After many years at the mission thousands of Hurons had been baptized, but they were almost entirely wiped out by the Iroqouis tribe and the missionaries returned with the remnant of their flock to Quebec City where some descendants still live to this day.
The Canadian Mission
The reality that the mystery of the Incarnation is for all people in every time and place, is beautifully reflected in this Christmas carol and indeed in the life of every missionary.  While the stories of the Canadian missions are fraught with danger and sacrifice; the golden thread is abandonment to God's holy will and zeal for the salvation of souls. Even now – with the same charity for God and neighbor that motivated St. Jean de Brebeuf – we must be the missionaries and martyrs! Like them we may face many different challenges that are foreign to our own cultures, but our hope in Christ and the help of His holy mother remain constant and sure.
We hope and pray that the children and families of our oratory be inspired by the story of the early Canadian missionaries to be missionaries in our current society.
SSVM missionaries in Peterborough, Canada